Hollywood sweetheart Emma Stone has been a household name in the industry since her feature film debut in Judd Apatow's Superbad back in 2007. Since then, she has been in hit after hit, with breakthrough roles in Zombieland, Easy A, and Crazy Stupid Love alongside Ryan Gosling. She hit exceeding levels of stardom after being cast as Gwen Stacy in The Amazing Spiderman films, with her on and off-screen chemistry with co-star Andrew Garfield taking the spotlight for a couple of years following. 
Stone reached critical acclaim after being cast in Damien Chazelle's musical-comedy La La Land, which marked her third collaboration with Gosling and earned her Academy, Golden Globe, SAG, and BAFTA awards for Best Actress. She also starred in the 2018 historical drama-comedy The Favourite alongside Olivia Colman and Rachel Weisz, which received an immense amount of critical acclaim and numerous supporting actress nominations for Stone. 
As one of the highest-paid actresses in Hollywood, Stone's husky voice and eyes are part of her trademark features that allow her to charm the likes of the public. Her critical acclaim and rise to the top have provided her with an influence unlike many others in the industry. On the star's 33rd birthday, join L'OFFICIEL in learning a little bit more about her with 10 lesser-known facts. 
Her real name is Emily Jean Stone
Born as Emily Jean Stone in Scottsdale, Arizona, the star had to change her name to Emma because there was already an Emily Stone in the Screen Actor's Guild. She tossed up between being called Riley or Emily J. Stone before settling on Emma, as it was closest to her real name. 
She created a presentation to convince her parents to let her act.
In high school, Stone created a PowerPoint presentation titled "Project Hollywood" to convince her parents to let her move to California and become an actress. The presentation was extremely silly, including Madonna's hit song "Hollywood" and alliterations. 
She had a brief Broadway career.
From late 2014 to early 2015, Stone made her Broadway debut as the star in Cabaret, taking over the role of Sally Bowles from Michelle Williams. She cited it as "the most nerve-racking thing ever" and had to listen to a French radio station to mentally prepare her for the role. 
She's a natural blonde.
While the actress is these days seen mostly as a redhead, her hair is actually naturally blonde. Judd Apatow suggested for her to dye her hair red for Superbad in 2007, and the color has pretty much stuck since. 
She voiced Ivana Tipton, the dog from The Suite Life of Zack and Cody.
Prior to Stone's endless filmography and when she still went by Emily in 2005, the actress had a secret role in Disney Channel's The Suite Life of Zack and Cody, voicing London Tipton's dog, Ivana, during a Season 1 episode of the show.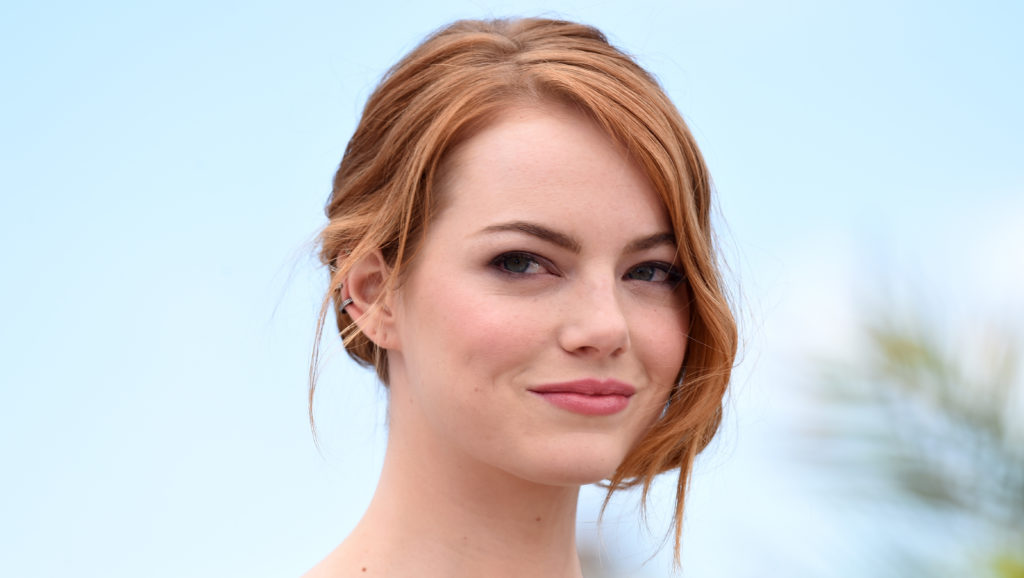 She cites Diane Keaton as her idol.
One of Stone's personal heroes is Diane Keaton who has publicly declared her love for the Annie Hall numerous times in interviews. Back in 2011, Stone talked about her fear of scaring Keaton off, given she's talked about her so many times. That doesn't seem to be the case, but Stone still remains visibly starstruck, as she's spoken about bursting into tears immediately after meeting her. 
She had an asthma attack on the set of Easy A.
During a fake sex scene in the filming of Easy A, Stone had an asthma attack, even needing an oxygen tank to recover from it. "Oh, for the love, I can't even simulate sex without dying!" Stone joked in 2010. "I had a little asthma attack, without any prior knowledge that I had asthma, during the scene where we had to jump up and down for hours and hours screaming and yelling on the bed. It was humiliating because it was the second day of shooting." 
She's obsessed with the Spice Girls.
Stone has a deep obsession with the Spice Girls, even going as far as naming herself after Baby Spice herself, Emma Bunton. In 2014, the actress wept after a video message from Mel B. Graham Norton even pranked her, as Stone lost her cool for a brief moment when she believed two of the Spice Girls would be making an appearance on the show. Luckily for her, Stone got to meet her idols at the 2019 reunion tour, even posing with Baby Spice for a photo. 
She deleted Facebook after getting addicted to the Farmville game.
Stone revealed on Jimmy Fallon's show in 2011 that she had to delete Facebook after an unhealthy addiction to the Farmville game. "It's a fake farm," she said to Fallon. "But it doesn't feel fake!" In an Elle cover story, the actress said that she even got to level 42 before she forced herself to stop. 
She had a daughter in March 2021. 
After marrying Saturday Night Live segment director Dave McCary in 2020, the two welcomed their first child, a daughter, in March 2021. They named her Jean Louise McCary, a tribute to Stone's own grandmother.